Briefing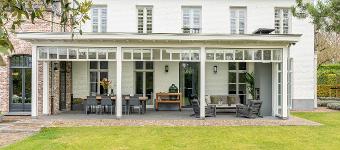 De VerandaSpecialist - https://www.deverandaspecialist.com/
De VerandaSpecialist ontwerpt, bouwt en plaatst al meer dan 10 jaar maatwerk buitenverblijven. Naast veranda's bouwen wij ook andere houten buitenverblijven zoals luxe overkappingen, tuinkamers, poolhouses of geïsoleerde serres en tuinkantoren. Alle buitenverblijven maken wij van kwalitatief en duurzaam hout. Hout heeft een robuuste uitstraling. Ook kan het gemakkelijk bewerkt worden. Zo biedt het ons de mogelijkheid om buitenverblijven in de stijl van het huis te bouwen.
De SerreSpecialist - https://www.deserrespecialist.com/
Naast veranda's en andere buitenverblijven bouwen wij ook geïsoleerde serres of bijgebouwen bij het bedrijfsonderdeel De SerreSpecialist. Op deze website is informatie en inspiratie te vinden rondom onze maatwerk serres. Wij bouwen serres in verschillende stijlen om zo een eenheid te creëren met de bestaande woning. Van een klassieke serre tot een industriële serre. Onze vakmensen gebruiken hoogwaardige materialen om een complete serre te realiseren. Zo kunnen we de bestaande pui verwijderen en een geisoleerde serre met vloerverwarming aan de woning bouwen. Deze serre voorzien wij van verschillende luxe mogelijkheden zoals een open haard, lichtstraat of harmonicadeuren.
De Lichtstraat Expert - https://www.delichtstraatexpert.nl/
Het derde onderdeel van ons bedrijf is De Lichtstraat Expert. Vanuit onze andere bedrijven, De VerandaSpecialist en De SerreSpecialist, realiseren wij regelmatig serres en veranda's met een lichtstraat. Inmiddels hebben wij deze lichtstraten zo doorontwikkeld dat wij deze via De Lichtstraat Expert exclusief aanbieden aan particulieren en aannemers die op zoek zijn naar lichtstraten in diverse modellen en afmetingen. Een lichtstraat op maat is de perfecte oplossing voor meer daglicht in uw woning. Onze vakmensen zijn gespecialiseerd in het ontwerpen, bouwen en plaatsen van hoogwaardige lichtstraten.
Campaign application
Do you want to join this campaign? Log in or sign up and apply straight away!