Briefing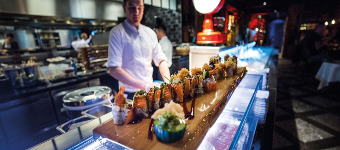 Wij zijn het jongste hotel van Apollo en Leonardo Hotels. Wij zijn de combinatie van groen en stad. Uitzicht op de Vinkeveense Plassen met een eigen haven. In samenwerking met The Harbour Club Vinkeveen heeft Leonardo Hotel Vinkeveen een exclusief Sleep & Dine arrangement samengesteld. Kom bij ons langs aan de Vinkeveense Plassen, met eigen privéstrand. Jouw avond begint met een 4-gangen diner bij The Harbour Club, exclusieve smaaksensaties gegarandeerd. Overnacht in één van onze comfortabele hotelkamers en start de volgende dag met een uitgebreid ontbijt.
Een Sleep and Dine Arrangement kost 189 euro voor 2 personen op maandag tot en met woensdag en op donderdag, vrijdag, zaterdag en zondag is dit 199 euro voor 2 personen.
The Harbour Club
Een bezoek aan The Harbour Club staat garant voor puur en intens genieten. Hoogstaande kookkunsten gemixt met een tikkeltje eigenwijsheid, maar wel met oog voor detail. De signature dishes van The Harbour Club, zoals de Zeebaars ceviche en een exclusieve Dry Aged Tomahawk steak, vormen de basis van de menukaart. Alleen het beste vlees, de meest verse vis en de mooiste groenten en kruiden zijn goed genoeg. De bereidingen zijn eenvoudig en puur: vlees van de open Josper Grill, in roomboter gebakken zeetong en gegrilde kreeft. Voor de sushi en sashimi wordt de best gekweekte Blue-Fin tonijn uit Malta ingekocht. De oesters zijn krakend vers en ook de plateaus fruits de mer zijn ongeëvenaard. Met smaaksensaties zoals de 'Salmon Torch Rol' of de verrassende 'Peking Duck Rol', zal uw diner een onvergetelijke ervaring zijn.