Briefing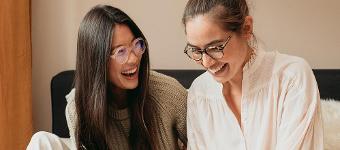 FRANK AND LUCIE - Het snelgroeiende merk met (lees)brillen als fashion statement.
WHY? Het noodzakelijke aantrekkelijk en bijzonder maken. Frank and Lucie streeft naar een ultieme ervaring van kwaliteit, elegantie en identiteit voor de leesbril-lezers.
HOW? Door het de leesbril-lezer mogelijk te maken om zich op een karakteristieke, klasse- en stijlvolle manier te kunnen onderscheiden van het 'normale'. Hierbij inspelend op emotie en verleiding en hem of haar in staat te stellen volop van het leven en zichzelf te kunnen genieten. Gebruikmakend van kwalitatief hoogwaardige materialen. Tijdloos design, gecombineerd met de technologie van morgen en een opgewekte, liefdevolle en charmante instelling.
WHAT? 10 modellen leesbrillen, zonnebrillen en bluelights.