Briefing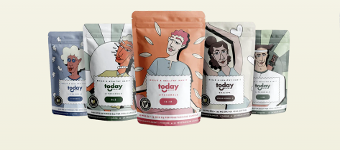 Start vandaag je gezonde gewoonte met Today.rocks!
Supplementen doen alleen hun werk als ze goed worden opgenomen. Wij bieden hoog opneembare gepersonaliseerde kwaliteitssupplementen die dankzij een gepatenteerde liposomale technologie direct in je bloedbaan worden opgenomen. Hoe? Aangeboden via het meest flexibele & gepersonaliseerde supplementen abonnementsvorm.
Veel van de vitamines en mineralen halen we uit voeding en maken we niet automatisch zelf aan. Een ondersteuning met kwaliteitssupplementen is dan ook essentieel. Door een veranderend voedingspatroon (denk o.a. aan minder vlees en vis) en bewegingsinspanning is het belangrijk dat we onze vitamime en minerale reserves op pijl houden. Op deze manier blijven we vitaal en kunnen we optimaal presteren en genieten van de ontspanning.
"Inspiring people to build a healthy habit; because inspiration is what gets you started, a habit is what keeps you going"
Campaign application
Do you want to join this campaign? Log in or sign up and apply straight away!