Briefing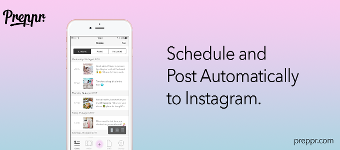 Campaign expectations
For Preppr we are looking for a wide range of Dutch and International (preferably Europe and North America) platforms interested in Instagram and the tools and tricks to make the most out of it in the least amount of time. We also welcome influencers, bloggers excited to write, talk and share about this topic. Are you up for the task to write an article on trends and tools for businesses on Instagram?
What is Preppr?
Preppr is a revolutionary product (web & iOS app) that helps businesses on Instagram be more effective and efficient in reaching their Instagram goals. We do this through a workflow tool that allows a user to schedule and fully automatic post to Instagram. We also provide insights into the process of post creation that improve decision making, think "best time to post" recommendations, and hashtag recommendations.
We aim to give Instagram account managers, whether they work for agencies, businesses or entirely independent back their valuable time to work on the real stuff and not be distracted by the need to post content to Instagram throughout the day manually.
Our target market:
Sex: Female and Man
Age: 18-35
Location: Europe and North America
Language: Preferably English, but local languages are also accepted
Audience: Instagram account managers, online marketers, marketing consultants, business owners, bloggers, social media influencers and online retailers.
There are the following topics you can write about:
Instagram trends & tools to help businesses flourish: write about the news from 30/1/18 that Instagram is offering 3rd party services opportunities to schedule and auto-post, which Preppr already provides for almost one year. We like you to give special attention to the Preppr blog, a rich source of original content with handy tips & tricks to improve your Instagram skills.
Preppr product review: dig deep into the features, workings, and benefits of the product and learn what gives Preppr users the "Aha-moment" when they see their first scheduled automatic post appear on Instagram.
Compensation:
Besides the fixed fee we offer a 1 month free trial membership
Addiotnal income opportunity:
Sign-up for our affiliate program and earn between $ 10 and $ 117 per new paying Preppr customer, based on the check-out amount. This is an external affiliate program, if you are interested please let us know in the assignment.
Example articles:
Tone of voice:
To learn more about the tone of voice we use, explore some of our blog posts: