Briefing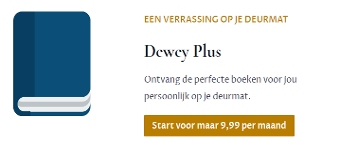 Company description
Dewey is een platform dat een zelfontwikkeld AI-model gebruikt om boek en lezer te verbinden. Het is echter niet een standaard aanbevelingssysteem: we zorgen ervoor dat we extra focus hebben op minder bekende boeken of auteurs. In de bestsellermarkt die de boekenwereld nu is, kunnen we zo verrassende aanbevelingen creëren die tegelijkertijd goed passen bij onze gebruikers.
Met Dewey Free bieden we een regelmatig verversende, persoonlijke tiplijst en cadeautips voor vrienden, zodat de gebruiker ook tijdig cadeau-inspiratie kan opdoen.
Dewey Plus is ons nieuwe betaalde abonnement dat iedere 8 weken een persoonlijke boekenkeuze maakt en deze automatisch op je deurmat laat vallen. Daarmee bieden we een boekenverrassing die je wellicht normaal nooit zomaar zou kopen, maar die wel past bij je smaak. Ook deze keuzes gaan voorbij 'de top 10-lijstjes' en worden nog passender naarmate je de ontvangen boeken of je Dewey Free tips beoordeelt.
Nu is Dewey nog een vrij 'technisch' verhaal over hoe het werkt. We willen nu meer content (laten) maken die uitlicht wat voor leeservaringen je met Dewey Plus kan behalen. Niet zomaar de bestsellers, maar juist boeken die je horizon verbreden en nieuwe auteurs aan je voorstellen.