Briefing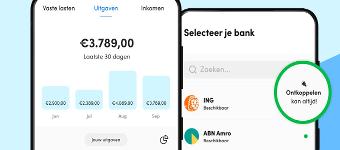 Dyme is de dienst die je laat besparen op je maandelijkse vaste lasten.
Betaal nooit meer onnodig te veel en laat grote bedrijven niet zomaar geld over jouw rug verdienen. De meeste providers, verzekeraars en abonnementsdiensten zien je graag stilletjes te veel betalen. Lopende of stilzwijgend verlengende abonnementen zijn goudmijntjes voor deze bedrijven. Dat stopt nu.
Onze app helpt je geld te besparen zonder in te leveren. We cancellen slapende abonnementen, onderhandelen met providers voor de beste deal en geven je het overzicht over je geld terug. Weet je al wat je gaat doen met al het geld dat je straks bespaart?
Om mensen te kunnen helpen besparen vragen we ze om hun bank te connecten. Dat vinden een hoop mensen spannend. Gelukkig is Dyme bloedserieus op het gebied van privacy. Vandaar dat we als eerste bedrijf een banklicentie kregen van De Nederlandsche Bank terwijl we geen bank zijn.
Onze visie: Een eerlijke financiële wereld
Onze missie: jou helpen geld te besparen zonder dat dit ten koste gaat van je levensstijl
Onze claim: Dyme is de enige dienst die je laat besparen op alle andere diensten
Check de website: https://dyme.app of download de Dyme app: https://dyme.app/get
Campaign application
Do you want to join this campaign? Log in or sign up and apply straight away!