Briefing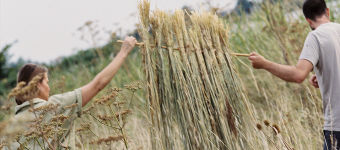 Company description
Mediamatic is een kunstinstelling voor innovatieve kunst in Amsterdam. We organiseren lezingen, workshops en kunstprojecten in een sterk internationaal netwerk.
Ears of Earth
Van 21 september tot 2 oktober organiseren wij Ears of Earth. Een kunstwerk in de vorm van een immersief acht gangen diner.
In Ears of Earth onderzoeken kunstenaars Suzanne Bernhardt en Philipp Kolmann in 8 gangen de smaken van de aarde. Met eeuwenoude grassen en traditionele fermentatietechnieken uit verschillende delen van de wereld gaan ze terug naar de basis van ons eten.
Ode aan de grond!
Alles wat we eten komt uit de grond. Planten, maar ook mensen en dieren zijn afhankelijk van de bacteriën, schimmels, planten en dieren die in de grond zitten. Die diverse cultuur is wat ons, en de rest van ons ecosysteem, voedt en in leven houdt.
De afgelopen jaren is de relatie tussen ons eten en de aarde veranderd: We verbouwen genetisch gemodificeerde planten op kunstmest en houden schimmels en bacteriën op afstand. Hoe kunnen we de aarde weer terug brengen in ons eten? En hoe smaakt dat?
Neo Futurist Dinner
Dit diner is een Neo Futurist Dinner. In de Neo Futurist Dinner serie nodigt Mediamatic verschillende kunstenaars en chef-koks uit om hun visie te geven op het eten van de toekomst. Door middel van een uitgebreid diner stellen zij vragen over de manier waarop voedsel, kunst, wetenschap en politiek met elkaar verweven zijn.