Briefing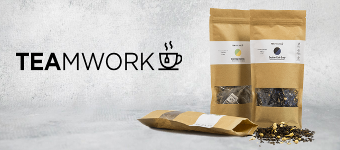 Company description
TEAmwork Tea = écht eerlijke thee! We zijn de Tony Chocolonely van thee: we brengen kwaliteitsthee direct van de plantage naar jouw brievenbus (short chain) en geven onze vrouwelijke theepluksters in Sri Lanka een eerlijk salaris. Al onze thee is handgeplukt, gifvrij (bio), fairtrade, in plastic-vrije theezakjes (geschikt voor GFT-afval!).
Bij TEAmwork Tea kost thee wat het zou móeten kosten, als er niemand uitgebuit wordt en geen natuur en plantages uitgeput raken. Onze pluksters verdienen een eerlijk salaris en onze plantages zijn biologisch en gifvrij. Thee in de supermarkt is eigenlijk te goedkoop. Je leest het goed: supermarktthee is te koop voor een prijs die zó goedkoop is dat het schade veroorzaakt aan mens en planeet.
TEAmwork Tea wordt altijd CO2-neutraal verzonden in een brievenbusdoosje met 3 verpakkingen thee. Elke verpakking bevat 40 gram losse thee of 15 plastic-vrije piramidezakjes (bekijk hier onze smaken). Kies een eenmalige box (ook leuk als duurzaam cadeau!) of ga voor ons thee abonnement. Het abonnement is altijd met één muisklik vanuit je account te pauzeren, je kunt een box overslaan of de bezorgfrequentie aanpassen naar bv. eens per kwartaal. Kortom, volledige vrijheid!