Briefing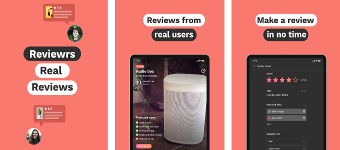 Reviewrs.com is een start-up met als doel om het onafhankelijke review platform te worden voor alles wat reviewen valt. Door het maken van video reviews garanderen wij in zekere mate de authenticiteit van de review (TikTok voor reviews).
Alle reviews worden voordat zij worden geplaatst eerst gecontroleerd of deze voldoen aan de voorwaarden (product goed in beeld, kwaliteit, geen bloot / drugs etc.., het product moet je gekocht hebben). Daarnaast worden de reviews, indien nodig, verrijkt met de juiste meta-data. Het doel voor de komende periode is groei, zoveel mogelijk reviews op het platform zodat het een aantrekkelijk platform wordt voor iedereen.
Campaign application
Do you want to join this campaign? Log in or sign up and apply straight away!