Briefing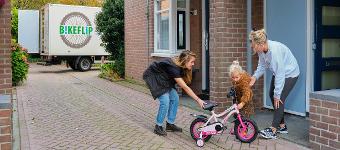 Kinderen groeien, fietsen niet. Weinig is zo tijdelijk als een kinderfiets; elke anderhalf tot twee jaar moet er een nieuwe fiets komen, en staat de te kleine fiets in de weg. Daarom hebben wij van BikeFlip een simpel, maar innovatief concept: een abonnement op een circulaire tweedehands (kinder)fiets met omruil- en reparatieservice aan huis.
Het werkt als volgt: je kiest een fiets uit op onze website. We brengen hem aan huis met de bakfiets en op het moment dat hij stuk gaat komen we hem aan huis ook weer repareren. Wanneer de fiets te klein is geworden kies je een nieuwe uit op de website en wisselen we hem in voor de oude fiets, waar vervolgens weer een ander kind op kan fietsen. Zo combineren we circulariteit met Product-as-a-Service!
Het feit dat de fietsen circulair zijn is uitermate belangrijk voor ons bedrijf. Wij geloven dat iedereen een steentje bij kan dragen aan een circulaire economie en zo zorgen we dat de fietsen zo lang mogelijk hergebruikt kunnen worden. Past de fiets niet meer? Dan ruilen we hem in voor een grotere en kan de te kleine fiets een ander kind weer blij maken! Zo worden er minder fietsen weggedaan en minder fietsen onnodig geproduceerd.
BikeFlip is een snelgroeiende start-up uit Utrecht en is ontstaan tijdens de master van één van de founders. Hij zag potentie in de miljoenen fietsen die aan het wegroesten zijn in schuren en gemeentedepots. Door nieuw leven te blazen in deze reststroom in combinatie met een unieke service, maken wij weer de volgende stap op weg naar een circulaire economie.
Campaign application
Do you want to join this campaign? Log in or sign up and apply straight away!