Briefing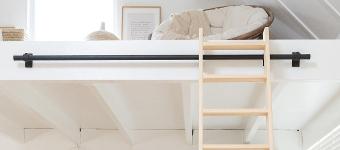 Company description
Houtenladders.nl is dé specialist voor houten ladders en houten trappen. Ons grote assortiment ladders en trappen is gebaseerd op traditioneel vakmanschap met de nieuwste technieken. Of je nu zoekt naar een houten trap, een houten ladder, een molenaars trap of een houten decoratie ladder, bij ons vind je het allemaal. Ook hebben we een ruim assortiment zwevende wandplanken van boomstam en eiken. Houten ladders vind je bij Houtenladders.nl!
Molenaarstrap grenen
De grenen molenaarstrap is een houten trap met vlakke treden. De trap kan gebruikt worden voor het bereiken van zolders, hoogslapers, boekenkasten, vides en vele andere plekken. Deze trap is onbehandeld en kan desgewenst en naar eigen inzicht worden geolied of gelakt, zodat hij perfect aansluit op andere houtproducten in je woning of ruimte. Maximale draagvermogen 200 kg.