Briefing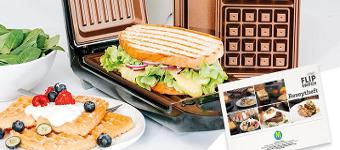 Company description
Je wil graag gezond eten, maar urenlang in de keuken staan is even geen optie. Met de Livington Flip Switch heb je in een handomdraai (letterlijk ;)) een lekkere gezonde maaltijd op tafel, zonder te veel moeite.
Je vult de Flip Switch eenvoudig met al je lievelingsingrediënten en in enkele ogenblikken geniet je van knapperige pizzastukken, smaakvolle spinazie-kaas-omeletten of de beste panini-burgers met tomaat en mozzarella.
Maar wat onderscheidt the Flip Switch met andere grilapparaten? Je kan de inzetplaten in slechts 5 seconden wisselen! De grilplaat is bedoeld voor een smakelijke kip Teriyaki of gegrilde Italiaanse groenten, of bijvoorbeeld luchtig-lichte briochetoast met bananen en chocolade! De XL-inzetplaat voor omeletten of de lekkerste gesuikerde pannenkoek met rozijnen! De wafelinzetplaat is geschikt voor gezonde spinaziewafels of voor heerlijke chocoladewafels met kersen en honing.
Draaibare multifunctionele grill met 3 verschillende inzetplaten (voor een compleet menu)
180 ° kantelbare Flip-Over-techniek perfect om te grillen, toasten, bakken, gratineren en roosteren
Vermogen van 800 W voor krokante toasts, perfect gebakken hamburgers, luchtige omeletten, heerlijke wafels en meer.
Inclusief 3 wisselinzetstukken voor XL-omeletten, grillspecialiteiten en wafels
Niks blijft vastkleven door de antiaanbaklaag met Lotus-Effect
Antislip siliconen voetjes zorgen vooreen veilige grip
Automatische temperatuurcontrole verzekert perfectie
Gemakkelijk te reinigen en eenvoudig op te bergen
Inzetplaten zijn geschikt voor de vaatwasser