Briefing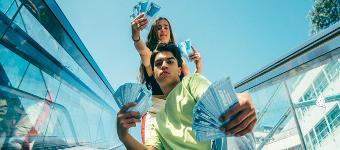 Bij Fonky bieden we de ultieme studentenbaan aan in 9 studentensteden. Er is keuze uit promotiewerk voor een telecomaanbieder en een sales bijbaan voor een loterij, telecomaanbieder of goed doel. Dit valt onder fieldmarketing.
Wil jij veel geld verdienen en het net zo hard weer uitgeven? En zelf je werkdagen bepalen? Ga dan bij ons aan de slag en solliciteer naar de ultieme studentenbaan bij Fonky (voorheen Fonky Sales). Naast een dikke portemonnee en flexibele werkdagen profiteer je ook van onze eigen Fonky Faculty. Daar leer jij jezelf presenteren en dat komt altijd goed van pas. Tijdens je studie maar ook zeker wanneer je op date gaat! Of je nu een bijbaan voor langere tijd zoekt, een tussenjaar hebt of op zoek bent naar vakantiewerk, bij Fonky ben je aan het goede adres.
Wij zijn een energiek, jong en creatief fieldmarketing bureau dat zich bezighoudt met sales- en promotieactiviteiten voor de grootste en meest bekende A-merken van Nederland. Wij trainen jou, zodat jij het beste uit jezelf kunt halen én plezier beleeft aan je werk. Daarna kan jij je nieuw verworven Sales Skills meteen in de praktijk brengen voor grote merken als KPN, de VriendenLoterij, Telegraaf, Hartstichting en nóg veel meer A-merken.