Briefing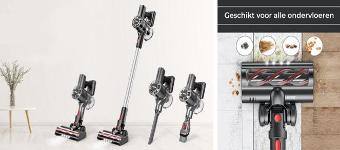 Met de draadloze steelstofzuiger van Zedar kun je gemakkelijk je kamer schoonmaken zonder gedoe met kabels en snoeren. Zelfs de moeilijk bereikbare plekken zijn eenvoudig schoon te houden met de verschillende bijgeleverde opzetstukken. Daarnaast heeft de steelstofzuiger een opvangbak van maarliefst één liter en gaat de volgeladen accu 30 minuten mee. Genoeg tijd om elke klus te klaren. Dankzij de draaiende beweging van de bijgelevede turboborstel trekt en zuigt de steelstofzuiger gemakkelijk al het vuil uit het tapijt/vloerkleed.
Ontdek het gevoel van vrijheid met de volledig draadloze steelstofzuiger van Zedar. De krachtige 200 Watt motor en gemakkelijk te besturen dankzij zijn lichte gewicht van 1,8 kg zorgen niet alleen voor een schoon huis. Het model is ergonomisch ontwikkeld en dankzij de wandbeugel hoef je nooit meer te bukken. Dankzij de wendbaarheid en verschillende opzetstukken kun je elk hoekje gemakkelijk bereiken.
Op Bol.com heeft de steelstofzuiger al meer dan 250 positieve beoordelingen.
Campaign application
Do you want to join this campaign? Log in or sign up and apply straight away!