Briefing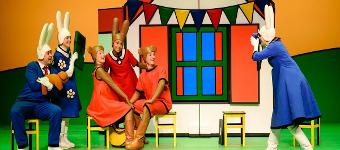 De komende drie jaar staat nijntje de musical in de vakantieperiodes in verschillende theaters in het land. Tekstdichter en woordkunstenaar Ivo de Wijs schreef een spiksplinternieuw verhaal vol vrolijke liedjes, geinspireerd door de boeken van Dick Bruna. De jonge regisseur Naomi van der Linden zorgt voor een frisse, creatieve voorstelling.
nijntje is hét kindermerk van Nederland. Iedereen kent dit wereldberoemde konijntje. Deze sprankelende muzikale voorstelling is een prachtige eerste kennismaking voor de kleintjes met theater. Je eerste knuffel? Dat is nijntje. Je eerste boek? Dat is nijntje. Je eerste theatervoorstelling? Dat is ook nijntje.
nijntje de musical is de leukste, veiligste kwalitatief meest hoogwaardige theaterervaring voor peuters en hun ouders.
Campaign application
Do you want to join this campaign? Log in or sign up and apply straight away!