Briefing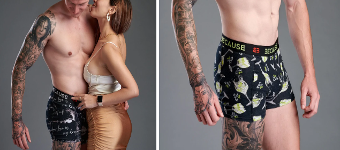 Company description
Wij vinden dat de boxershorts tegenwoordig saai zijn. Hierin hebben wij verandering gebracht. De boxers van Boxers Because komen met een leuke boodschap. Geweldig als cadeau voor je geliefde of vrienden. Verkrijgbaar in 2 'naughty' teksten.
Op de band van de boxershort staat ''BECAUSE'' en op de boxershort print staat het antwoord. Deze tekst is een beetje speels/ondeugend.
Momenteel is er keuze uit 2 teksten:
Your Love Is My Drug
Let The Fun Be-Gin
Na heel veel teksten met een gave print te hebben bedacht en ontworpen, wilden we niet langer wachten om alvast een start te maken door met deze twee items te starten met influencer marketing.