Briefing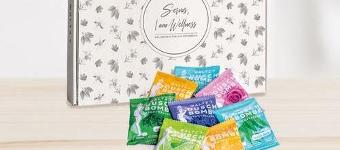 Company description
Stap uit de douche en voel je extra fris, geïnspireerd en verwend met deze douche bombs. Leg een douche bomb op de vloer van je douche, zet de douche aan en je waant je in een handomdraai in een ontspannende badomgeving. Maak uw dagelijkse douchebeurt nog luxueuzer en bevredigender. Met een douchebom vul je je badkamer snel met een geur die je zintuigen prikkelt.
In de verpakking zitten 8 verschillende geuren (van elke 2 stuks)
Roos voor verwennerij
Rozemarijn-munt voor kracht
Lavendel voor ontspanning
Eucalyptus om te ontwaken
Sinaasappel voor energie
Linde-munt voor verfrissing
Fijnspar voor verjonging
Mango voor inspiratie
Het perfecte vegan cadeau voor de feestdagen! De Douchebomb set is ook het perfecte cadeau met een duurzaam karakter. Bovendien is het 100% Vegan en ook nog eens palmolievrij.
Hoe werkt een Douchebomb?
Leg de douchebomb op de vloer van je douche in de buurt van de afvoer. Doe de douche aan (de straal hoeft niet direct op de douchebomb gericht te zijn). Het duurt 10 tot 15 minuten voordat de douchebomb volledig oplost. Je badkamer ruikt volledig naar de geur naar keuze, zonder je huid of haar te parfumeren.
Het product is winnaar van de Duitse innovatieprijs 2019 (Gold)
Beschermde formule, maakt alleen gebruik van natuurlijke essentiële oliën en geuren
Geen microplastics en allergenen
Kan een diepere slaap bevorderen
Kan helpen bij het verlichten van stress of spanning
Opmerking:
Niet geschikt voor consumptie. Buiten bereik van kinderen houden. Vermijd contact met de ogen en de slijmvliezen.