Briefing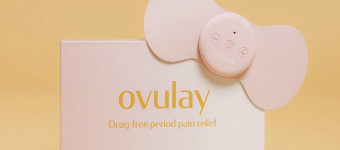 Company description
Ovulay is een medicijnvrije therapie voor menstruatiepijn. Ovulay komt het dichtst in de buurt van een natuurlijke behandeling voor menstruatiepijn en ongemak.
Hoe werkt het?
De Ovulay-stimulator is een TENS-stimulator (transcutane elektrische zenuwstimulatie) die is gebaseerd op stimulatie van de natuurlijke pulsen van het lichaam. Het creëert elektrische impulsen die transcutaan worden doorgegeven aan zenuwen of spiervezels via elektroden. Elektrische impulsen van elektroden, geplaatst op het pijngebied, stimuleren de zenuwen om de pijnsignalen naar de hersenen te blokkeren. Deze trillingen helpen ook de spier in het baarmoedergebied te ontspannen, wat resulteert in een kalmerend pijnstillend effect.
Laagfrequente prikkels van milde elektrotherapie helpen de natuurlijke pijnbeheersingsreactie te activeren, waarbij bèta-endorfines vrijkomen die de gevoelde pijn verlichten.
Overige kenmerken
Je kunt het apparaat instellen op de gewenste intensiteit en pulsstand.
De Ovulay is gemakkelijk aan te brengen en te gebruiken, je kunt het comfortabel onder je kleding dragen en er je normale dagelijkse activiteiten mee uitvoeren.
Er zijn 2 verschillende kleuren, een light skin kleur en een dark skin kleur.
Campaign application
Do you want to join this campaign? Log in or sign up and apply straight away!