Briefing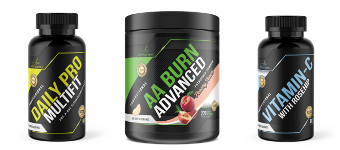 A Pro87 Nutrition is een merk voor sportvoeding en levert een reeks hoogwaardige producten, waaronder eiwitpoeder, vitamines, mineralen en accesoires. A Pro87 Nutrition is opgericht in 2022 door Anis Ammar. Met een divers en toegewijd team van medewerkers, sporters en actieve influencers zijn we tevens bezig met de uitbreiding van ons merk zowel binnen als buiten Europa.
Elke dag willen we mensen van alle leeftijden en geslachten inspireren om aan hun gezondheid te werken en te geloven dat het mogelijk is om hun (sport)doel te bereiken.
Onze kwaliteit
A Pro87 Nutrition is toegewijd aan het leveren van de beste kwaliteitsproducten. Onze producten worden in Sevilla, Spanje geproduceerd en met productiefaciliteiten van wereldklasse stelt dat ons in staat om de best geteste producten te ontwikkelen en leveren.
We werken nauw samen met onze onafhankelijke kwaliteitspartner, Eurofins, die strenge beoordelingsmaatregelen gebruiken om ons product te testen en goed te keuren. Daarnaast zijn al onze producten GMP gecertificeerd, wat inhoud dat we aan alle strenge kwaliteitseisen en hygiene eisen voldoen.
Waarom A Pro87 Nutrition?
100% geteste producten en ingrediënten: jouw supplement bevat daadwerkelijk alles wat er op de verpakking staat
Voor elk gezondheids- en fitnessdoel een product
Vraag gratis advies aan één van onze experts. Meer dan 19 jaar ervaring!
Campaign application
Do you want to join this campaign? Log in or sign up and apply straight away!