Briefing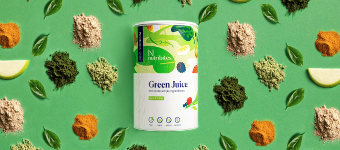 Nutribites heeft een missie. Wij willen mensen laten zien dat een gezond en vitaal leven haalbaar is – ondanks ons hedendaagse drukke leven vol verplichtingen.
Ons doel voor jou is om vaker een goede dag te hebben vol energie en geluk. Wat je ook wilt in het leven: een optimale gezondheid helpt je erbij.
Assortiment
Het assortiment bestaat uit hoogwaardige voedingssupplementen, zoals onze bekende Green Juice, Magnesium, Algenolie en Probiotica.
Green Juice in beeld
Ontdek de kracht van de beste superfoodmix van Nederland en België. Green Juice helpt je om belangrijke voedingsstoffen binnen te krijgen in minder dan 30 seconden per dag. Nutribites Green Juice bevat namelijk 31 soorten groente, fruit, kruiden, superfoods (zoals tarwegras en groene thee) en mineraalrijke algen (zoals chlorella en spirulina).
Campaign application
Do you want to join this campaign? Log in or sign up and apply straight away!