Briefing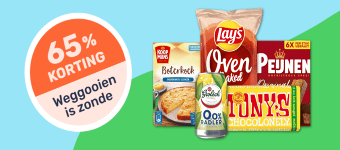 Company description
Foodello is dé online supermarkt tegen voedselverspilling. Wij redden boodschappen die niet meer in de supermarkt belanden. Een drukfout op de verpakking of een tenminste-houdbaar-tot datum die dichterbij komt, voor ons geen redenen om goede boodschappen weg te gooien. Onze klanten besparen gemiddeld 50% op hun boodschappen 🤯 en verminderen tegelijkertijd voedselverspilling.
We zijn in februari in Nederland begonnen en hebben inmiddels veel blije klanten die vaak bij ons terugkomen. De laatste tijd zijn we vaak in de media geweest (o.a. Volkskrant, NPO Radio1), maar er zijn nog veel mensen die ons niet kennen, of niet precies weten wat we doen. Daar willen we verandering in brengen en daar hebben we jouw hulp bij nodig! Met 'the Foodello experience' campagne willen we zoveel mogelijk mensen kennis laten maken met Foodello en laten zien hoe het is om bij Foodello te bestellen.
Doelgroep
Onze klanten willen geld besparen (op boodschappen), duurzame keuzes maken, of beide. Een vrij breed publiek dus. Onze belangrijkste doelgroep zijn vrouwen tussen de 25 en 55 jaar oud.