Briefing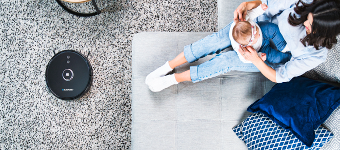 Next level stofzuigen doe je met onze superheld; de Blaupunkt Bluebot XTREME. De geavanceerde 360 graden laser brengt jouw huis in kaart, zodat deze held weet waar hij wel of niet moet komen.
Zo stuur je bijvoorbeeld gemakkelijk de robot even naar de keuken om de met bloem bezaaide vloer te zuigen. Of je ontwijkt net die ruimte die vol ligt met speelgoed. Voor een extra schoon huis laat je je robot ook dweilen. Dat is pas ultiem schoonmaakgemak.
Bedenk wat jij nodig hebt en stel het in in de Bluebot app. Meer tijd voor leukere zaken en de robotstofzuiger van Blaupunkt doet het stofzuigwerk voor je.
3 voordelen van de Bluebot XTREME
Eenvoudig instellen van virtuele NO-GO zones in de Bluebot app dankzij de 360 graden laser welke een real-time map verzorgt.
Gaat ontzettend nauwkeurig en voorzichtig te werk, dus precisie is gegarandeerd!
De Blaupunkt Bluebot XTREME heeft een stillere motor dan een normale stofzuiger. Zo kun jij ongestoord blijven werken terwijl jouw robot aan de slag gaat.
Let op: inmiddels zijn de eerste samenwerkingen al gestart, maar wellicht volgt er later nog een nieuwe ronde samenwerkingen waarbij we een nieuwe deadline afspreken.