Briefing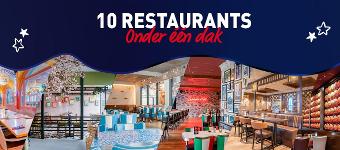 ABC Restaurants is een restaurantconcept waar gasten kunnen genieten van 10 restaurants onder 1 dak voor een vaste all-in prijs. Er is onder andere een Sushi Bar, Asian, Tex-Mex, Vegitalian en een Bakery. Voor de kinderen is er een speciale peuterzone en een indoor en outdoor speeltuin. Dat samen zorgt voor veel blije gezichten en dat is precies waar het bij ABC Restaurants om draait: Good food & Good feelings!
De formule van ABC bestaat in Nederland inmiddels zo'n 20 jaar en in haar huidige vorm ruim 10 jaar. ABC Restaurants heeft in Nederland 2 vestigingen: één in Velp (Noord-Brabant) en één in Sevenum (Limburg). De vestiging in Sevenum is momenteel helaas tijdelijk gesloten.
Campaign application
Do you want to join this campaign? Log in or sign up and apply straight away!