Briefing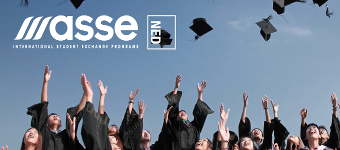 ASSE staat bekend als één van de meest gerenommeerde internationale organisaties die sinds 1976 studentenuitwisselingen wereldwijd verzorgd. Het verhaal van ASSE International Student Exchange Programs gaat terug tot 1938. In dit jaar lanceerde het Ministerie van Onderwijs in Zweden een bilateraal uitwisselingsprogramma voor middelbare scholieren uit Zweden en Duitsland. Eind jaren '40 werd dit programma uitgebreid naar Frankrijk en het Verenigd Koninkrijk.
In 1976 werd de ASSE Foundation opgericht in samenwerking met het Ministerie van Buitenlandse Zaken in Amerika. ASSE Amerika heeft vervolgens als enige internationale uitwisselingsorganisatie de best mogelijke Full Listing-beoordeling gekregen van de Council on Standards for International Education Travel (CSIET). Wereldwijd heeft ASSE International de afgelopen 30 jaar het aanbod nog verder uitgebreid. In meer dan 40 landen in Europa, Amerika, Azië, Afrika en Oceanië bieden we diverse uitwisselingsprogramma's aan voor middelbare scholieren en studenten.
De wereld ontdekken op joúw manier
Kies voor een high school programma in Amerika, Canada of Mexico en bepaal zelf via welk programma je gaat. Bij ASSE heb je de keuze uit vier verschillende programma's: Classic, Choice, Private en Private Plus. Wil jij graag alle touwtjes in handen hebben, een paar voorkeuren doorgeven óf laat jij het regelen van jouw highschoolavontuur volledig bij ons? Welk programma je ook kiest, een high school uitwisseling in het buitenland staat garant voor een geweldige tijd!
Campaign application
Do you want to join this campaign? Log in or sign up and apply straight away!