Briefing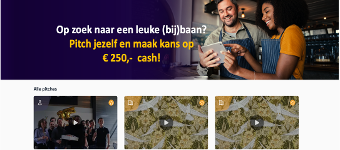 Company description
Pitchbees is dé nieuwe manier van solliciteren. Het platform Pitchbees.com gaat half februari van start en is op zoek naar iedereen die op zoek is naar werk, een opdracht of een leuke (bij)baan. Met een videopitch presenteer je jezelf op het platform en komt zo rechtstreeks in contact met potentiële bedrijven.
Pitchbees is gratis en om de lancering van de website een boost te geven maak je ook nog eens kans op een contant bedrag van € 250,- als jouw videopitch het meest bekeken wordt gedurende de eerste 4 weken.
Hoe werkt het? Neem via je telefoon of camera je videopitch op, liefst in landscape mode. Maak je pitch niet te lang, een goede pitch duurt meestal een minuut of korter, omschrijf wie je bent en waar je naar op zoek bent in je pitch en stuur deze op naar info@pitchbees.com. Je ontvangt dan je accountgegevens en verdere instructies over je account en de lancering van Pitchbees.com. We zijn nog aan het kijken of we voor deze actie een landingspagina inrichten zodat deelname nog makkelijker wordt.