Briefing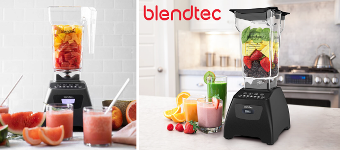 Company description
Het Amerikaanse merk Blendtec maakt blenders in het hogere prijssegment die werkelijk alles kunnen blenden. Het zijn echte krachtpatsers met een hoog vermogen en lange levensduur. Blendtec blenders zijn dus zoveel meer dan smoothiemakers. Smoothies en sapjes zijn nog maar het begin. Denk bijvoorbeeld aan heerlijke eigengemaakte hummus, babyvoeding, soep, cocktails, sorbetijs, deeg, dressings, sauzen etc etc
Onze doelgroep is heel divers. Consumenten die bezig zijn met gezonde voeding & levenstijl voor hem/haar of voor het gezin of een thuiskok die de heerlijkste recepten maakt.
CLASSIC 575
De Blendtec Classic 575 blender is de ultieme smoothie machine. De machine heeft namelijk een vermogen van maar liefst 3 PK! Hiermee kun je dus echt allerlei soorten ingrediënten verpulveren. Besjes, zaadjes, ijsblokjes, noten, groenten; het levert allemaal geen enkel probleem op voor deze krachtpatser.
De blender is voorzien van 4 voorgeprogrammeerde functies (voor smoothies, schoonmaken, 60 seconden en 90 seconden) hiernaast kun je de blender op 5 verschillende snelheden instellen. Ook is het apparaat voorzien van een pulse functie. Op het LCD-scherm kun je aflezen hoeveel tijd het gekozen programma nog duurt.
Zoals genoemd is de Blendtec 575 Blender voorzien van een schoonmaakfunctie waardoor het schoonmaken van het apparaat heel gemakkelijk en snel te doen is. De blender wordt geleverd met een BPA-vrije blenderkan met een inhoud van 1.9 liter (max vulcapaciteit 0.9 liter).