Briefing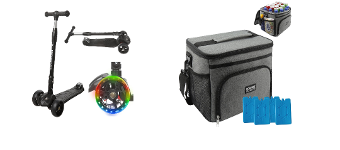 Company description
Rockerz biedt de ultieme fitness- en outdoor producten voor thuis. Kwaliteit en duurzaamheid zijn onze kernwaarden: alle producten genieten van een lange levensduur. Tevens zijn onze producten leuk voor het oog.
Steppen is nu nog leuker geworden! En leerzaam. Met de step van Rockerz Outdoor leren kinderen balans en coördinatie te ontwikkelen met een glimlach op hun gezicht. En om het extra leuk te maken geven de wielen ook nog eens licht! Zo kunnen jouw kinderen zich urenlang vermaken en zullen ze zonder geklaag met je mee op stap gaan. Plezier voor iedereen!
Altijd koude drankjes bij de hand, met deze ruime 15 liter koeltas van Rockerz Outdoor inclusief twee koelelementen! Of je nu gaat picknicken in het park, gaat barbecueën op het strand of op een heerlijke boottocht gaat, deze 4 laags geïsoleerde koeltas leent zich hier perfect voor! Er kunnen maar liefst 24x 33 cl blikken of 12x 33 cl flesjes in. De drankjes blijven tot wel 10 uur koel. Heerlijke koude drankjes voor op een mooie zomerse dag!