Briefing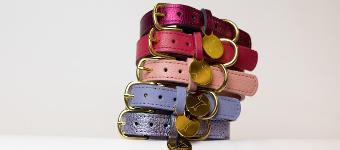 Company description
Bij The Dog Musthaves kun je eenvoudig en snel een leren honden halsband kopen met een penning met de naam van je hond erin gegraveerd. Handgemaakte halsbanden uit eigen atelier hier in Zwolle (Nederland).
Een hond hebben is een vriendschap voor het leven. Het is onze missie om honden accessoires te maken die deze vriendschap kan bezegelen met iedere stap die je neemt. We doen dat door hoogwaardige en duurzame producten te maken voor iedereen met een hond, zonder concessies te doen aan stijl en design. Wij bieden een persoonlijke service door onze halsbanden en lijnen zelf te maken. Daarnaast graveren wij iedere penning in ons eigen atelier. Genoeg keuze om het door jou gekozen product te personaliseren.
Oog op duurzame materialen en impact
Wij geloven in een realiteit waarbij oude ambacht, duurzame en kwalitatieve producten de nieuwe vorm is. Tegelijkertijd hechten we veel waarde aan hoge kwaliteit en een geweldig design en zien we onze honden accessoires als een stijlvol verlegde van jouw eigen outfit. Het is onze plicht om voor jou en jouw vertrouwde viervoeter accessoires te maken die een leven lang meegaan. We zullen ons daarom altijd volledig inzetten om zoveel mogelijk milieuvriendelijke materialen te gebruiken in onze producten.
Dit is een doorlopende campagne waarbij we steeds nieuwe samenwerkingen uitkiezen. Het kan dus even duren voordat je van ons hoort.
Campaign application
Do you want to join this campaign? Log in or sign up and apply straight away!