Briefing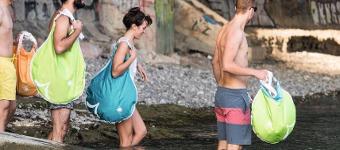 Company description
De Wickelfisch is dé waterdichte tas voor jou en al jouw waardevolle spullen!!
Je hoeft niks meer achter te laten op de handdoek. Alles kan mee het water in. Telefoon, portemonnee, paspoort, sleutels, wat voor jouw ook maar waardevolle spullen kunnen zijn. Dus een dag strand met het gezin, iedereen kan mee het water in. Bij een plas met vrienden, zijn alle telefoons veilig. Een tochtje op de SUP, kan nu gedaan worden met handdoek en kleding in deze waterdichte tas. Met de boot weg, valt er iets overboord geen nood! De tas blijft drijven. Naar het zwembad, al je spullen droog! Dus eigenlijk altijd als je in of om het water bent. Of tijdens het wandelen of fietsen met slecht weer.
De tas is te krijgen in meerdere maten, voor de basis: Telefoon, portemonnee, paspoort, sleutels.Een maatje groter: hier kan ook wat kleding, handdoek of wat grotere spullen in en is meteen een waterdichte, zandafstotende strandtas en hier kan je lekker op blijven drijven. Ook is hij nog verkrijgbaar in een maat L en in rugtassen.
Het product bestaat al ruim 20 jaar in Zwitserland bij Basel en sinds 2 jaar in Nederland. We staan veel op evenementen en de reacties zijn super! Alleen het bereik schiet niet op! Het product moet bekend worden! We stoppen al onze energie er in omdat we er 200% in geloven.