Briefing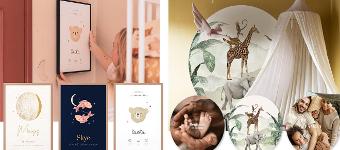 Company description
Made for Moments vindt het belangrijk om speciale levensmomenten, met gepersonaliseerde producten, voor jou nog mooier te maken. Dit doen we al jaren op het gebied van geboortekaartjes, trouwkaarten en uitnodigingen. Onze ontwerpen bestaan uit een combinatie hippe designs volgens de laatste trends in combinatie met een persoonlijke touch, toegevoegd door jou in onze online editor.
Nieuw: gepersonaliseerde wanddecoratie
Maar we merkten dat er behoefte was aan meer. Meer dan alleen kaarten. Zo werd er steeds vaker om geboortekaartjes en trouwkaarten als poster gevraagd of babykamer items in stijl van het kaartje, of items waar men foto's aan de muur met elementen uit het kaartje verwerkt. Vanuit die behoefte is onze wanddecoratie collectie geboren.
Onze vraag aan jullie
Klanten weten ons voornamelijk te vinden voor het maken van de allermooiste kaarten voor belangrijke levensmomenten, maar nog niet voor het maken van gepersonaliseerde wanddecoratie in de vorm van bijvoorbeeld geboorteposters en wandcirkels. Daar willen we samen met jullie verandering in brengen. Iedereen mag weten dat je ook voor de allermooiste gepersonaliseerde wanddeocratie bij ons kan zijn. Of het nou gaat om de allereerste babyfoto's, unieke baby gegevens of trouw- en familiefoto's die een mooi plekje verdienen aan de muur: je maakt het bij Made for Moments.