Briefing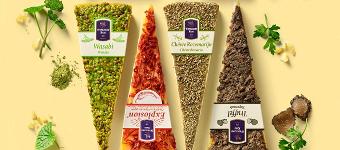 Company description
Wyngaard Kaas is de smaakmaker van de kaasmakers. Nadat de kazen een aantal maanden hebben gerijpt, verrijken de kaasmakers van Wyngaard de kazen met diverse smaakmakers. Door de kazen rijkelijk te bestrijken met bijvoorbeeld truffel, gember, mosterd dille of rode peper ontstaat er een heerlijke smaakkaas. Ideaal bij de borrel, als aperitief of op je kaasplankje (na het diner). Je vindt de smaakkaas bij de kaasspeciaalzaak en in het schap bij de supermarkten.
Smaakkazen
Nu is het tijd om de kaasmomenten te delen. Om Nederland met smaak te gaan vertellen wat Wyngaard zo bijzonder maakt en welke smaakkaasjes er allemaal zijn. En vooral: hoe lekker de smaakkaasjes combineren met verschillende wijnen, port en speciaal bier. Het wordt tijd voor meer smaak op de kaasplank.
Tomaat bieslook, truffel, Mosterd Dille, Zwarte Peper, Gember, Rozemarijn en Explosion.