Briefing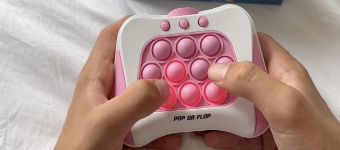 Company description
Ons spel genaamd POP OR FLOP is een electronisch Pop it spel, dat we sinds kort op de markt in Nederland hebben gebracht. Doelgroep zijn kinderen tussen de 5 en 10 jaar oud.
Verbeter je reflexen met deze roze of blauwe draagbare Pop or Flop Gamecosole met 4 verschillende electronische pop-it spellen met 30 levels. De 10 bobbels op de gameconsole lichten steeds op in een bepaald patroon. Het doel is om zo snel mogelijk de bobbel in te drukken die oplicht. Vervolgens druk je de bobbels aan de achterkant terug naar boven, waarna op het console de volgende combinatie zal verschijnen.
Het Pop or Flop spel heeft 4 verschillende spellen:
Level (Stage) Mode: druk zo snel als je kan de verlichte bobbels in.
Memory mode: onthoud de combinatie die oplicht en doe het na.
Scoring mode: druk zo snel als je kan de verlichte bobbels die in verschillende combinaties verschijnen.
Multi player mode: Speel het spel om en om met twee personen….wie is de beste?
Ben jij de POP master of wordt het een FLOP? Dit spel test jouw reactiesnelheid en behendigheid en biedt urenlang speelplezier voor zowel kinderen als volwassenen. Inclusief sound effects (kan je zachter zetten of uit zetten).
LET OP: druk de bobbels goed in, tot je een 'poef' geluid hoort en het kleine rode lampje in het midden uit van de bobbel gedoofd is!