Briefing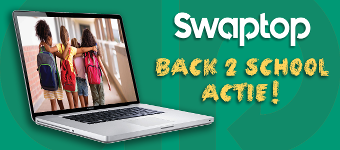 Company description
Wie zijn wij?
Swaptop is een jong laptopverhuur bedrijf, bij Swaptop heb je altijd een super snelle MacBook of Windows laptop voor een vast bedrag per maand. Is je laptop kapot? Dan helpen wij je op afstand of ruilen we hem direct om voor een andere.
Waarom Swaptop?
Een moderne MacBook of Windows laptop voor een vast laag bedrag per maand
Levenslange garantie zolang je abonnement loopt
Hulp op afstand of directe Swap van je laptop bij een defect
Daarnaast streeft Swaptop naar duurzaamheid en een circulaire economie. Wij zorgen ervoor dat de levensduur van laptops aanzienlijk langer wordt, wij geloven in een wereld waarin we geen laptops meer weggooien. Hiernaast zorgen we ervoor dat de laptops elke keer weer netjes zijn, snel worden gerepareerd als dit nodig is en een stuk steviger zijn door bijvoorbeeld onze krasbestendige coating en een waterbestendig toetsenbord waarmee de levensduur van de laptops enorm wordt verlengd.
Mensen kunnen bij ons terecht als ze een laptop nodig hebben voor korte of lange termijn. Onze abonnementen zijn maandelijks opzegbaar na 3 maanden maar kunnen ook worden afgesloten voor 1 of 2 jaar met een flinke korting.
Door te verhuren zorgen wij er dus voor dat mensen zorgeloos kunnen genieten van een laptop die ook nog eens een stuk duurzamer is. Zo gebruikt het produceren van één laptop 190.000 liter water, dat is genoeg om meer dan 5 jaar lang elke dag een bad te nemen. Hiernaast produceert het ook nog eens 300kg CO2 en 1200kg afval! En in Nederland kopen wij inmiddels een miljoen laptops per jaar. Wereldwijd is dit zelfs 250 miljoen laptops per jaar! Superslecht voor het milieu dus, en hier strijden we echt voor bij Swaptop!