Briefing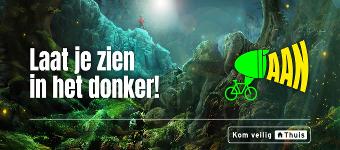 Company description
Dit jaar gaan we vol enthousiasme opnieuw van start met onze succesvolle fietsverlichtingscampagne "AAN" voor de Provincie Utrecht. Wat willen we bereiken? We willen jongeren bewust maken van het belang van fietsverlichting wanneer ze 's avonds de weg op gaan. Het is namelijk nog steeds zorgwekkend dat elk jaar veel fietsslachtoffers vallen in onze provincie vanwege gebrekkige of ontbrekende fietsverlichting.
We hebben Instagram gekozen als het perfecte platform om deze boodschap krachtig over te brengen. Daarom zijn we bezig met de ontwikkeling van een social AR-filter in de vorm van een game! De game zal niet langer dan 50 seconden duren en op een grappige en duidelijke manier de boodschap overbrengen: "Zet je fietslicht aan wanneer je in het donker fietst!".
Ben jij net zo enthousiast als wij om ons te helpen met dit mooie doel, namelijk het bewust maken van jongeren over het belang van fietsverlichting?
Campaign application
Do you want to join this campaign? Log in or sign up and apply straight away!