Briefing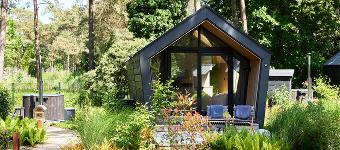 Company description
Ons vakantiepark Kampinastaete ligt midden in de bossen van Oisterwijk en is compleet opnieuw aangelegd. Van diep in de grond tot aan de laatste dakpan. We wilden graag een klein vakantiepark neerzetten speciaal voor de echte levensgenieter die niet van de massa houdt, maar wel graag allerlei toffe activiteiten op een steenworp afstand wil ondernemen. En dat is gelukt al zeggen we het zelf. Onze cottages, Diamond Suites en lodges hebben alles wat je hier nodig hebt en de omgeving is heerlijk relaxed.
Wat is er mooier dan slapen midden in het bos op het terrein van de eekhoorns, roodborstjes en herten? Of dat tjijdens het lezen van een boek op je eigen terrasje er één van onze kippen even om de hoek komt kijken.
Kwaliteit staat bij ons hoog in het vaandel. We scoren gemiddeld maar liefst een 9,6!
Campaign application
Do you want to join this campaign? Log in or sign up and apply straight away!