Briefing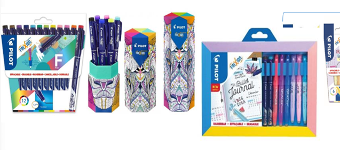 Company description
Sinds 2009 domineren wij Frankrijk met onze Pilot pennen. Eén van onze bekenste product is de uitwisbare Pilot Frixion balpen. Zonder gum, zonder wisser, zonder beschadigingen aan het papier, kan tekst makkelijk worden verwijderd. Deze speciale inkt verdwijnt namelijk bij warme wrijving van het kunststof uiteinde van de pen. Dus als je per ongeluk een foutje maakt, pak je gewoon de achterkant van de pen en voilà, probleem opgelost! 😎🖋️ Kou (-15 graden) zorgt voor het tegenovergestelde effect. Leg de gewiste tekst in het vriesvak en na korte tijd wordt de tekst weer zichtbaar.
Naast deze magische balpennen bieden wij een compleet assortiment aan met onder andere markers, handlettering, paintmarkers, vulpotloden noem maar op. De Pilot's nieuwste verpakkingsinnovatie is gemaakt van 100% gerecycled plastic, ontworpen en geproduceerd in Europa door PILOT.
Onze doelgroep zijn: ouders (voornamelijk moeders), leerkrachten en kinderen van 10 t/m 15 jaar oud.
Wil je jouw volgens laten zien hoe geweldig deze pennen zijn? Samen kunnen we jouw invloed vergroten en de liefde voor schrijven verspreiden in Nederland.
Let op: deze klant wenst niet buiten LinkPizza om benaderd te worden voor een samenwerking. Neem bij vragen contact op met LinkPizza via de chat.
Campaign application
Do you want to join this campaign? Log in or sign up and apply straight away!