Briefing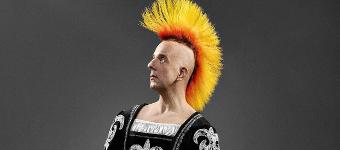 Company description
Na het overweldigende succes van Showponies 1, 2 en Snowponies is Alex Klaasen weer alleen. Gewoon, omdat hij daar behoefte aan heeft. Even niet dat gehinnik om hem heen, even niet constant dat paradepaardje moeten uithangen. Nee, gewoon even tijd voor hemzelf. Momentje voor Alex. Even reflecteren weet je. Juist in een tijd waarin we geacht worden precies te weten wat we vinden en haast gedwongen worden overal onze mening over klaar te hebben gaat Alex in retraite. Omdat het ook heel lekker kan zijn om het soms even niet te weten. Maar daar moet je je aan overgeven. In je eentje. Of misschien met een héél klein beetje publiek erbij…
No ponies – Een éénmansrevue is een voorstelling in de lijn van Showponies 1, 2 en Snowponies. Ook dit keer zal er weer een bonte stoet aan kleurrijke types de revue passeren. Er wordt uiteraard weer belachelijk veel gezongen, van opera tot akoestische zingende zaag en zal Alex in zijn eentje alle hoogtepunten uit het klassieke ballet repertoire vertolken. Zonder hulp. Mét echte balletmaillot.
De voorstelling toert door heel Nederland, check www.alexklaasen.nl voor alle tourdata.
Let op: deze klant wenst niet buiten LinkPizza om benaderd te worden voor een samenwerking. Neem bij vragen contact op met LinkPizza via de chat.
Campaign application
Do you want to join this campaign? Log in or sign up and apply straight away!