Briefing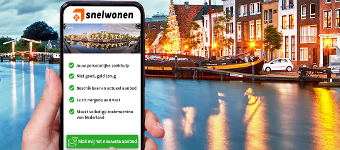 Company description
Een kamer, studio, apartement of huurwoning vinden moeilijk? snel wonen helpt je!
Al helemaal in de huidige tijden is het een ellendige taak. Elke dag zoeken op huurwoningsites, Facebook, marktplaats en weet ik veel waar om te kijken of er ergens misschien een kamertje of apartementje voor je beschikbaar is.
Tijdrovend, vermoeiend en frustrerend! Vanuit deze ervaring is snel wonen ontwikkeld. snel wonen doorzoekt namens jou al die websites waar jij kijkt en weet er stiekem nog veel meer. Zo heb jij de rust en zekerheid dat je geen aanbod laat liggen. Zodra een woonruimte wordt gevonden die aan je filters voldoet ontvang je direct een melding. Op deze manier heb jij meer kans omdat je snel reageert.
Je start de snelwonen zoekmachine al vanaf €8,33 per maand en de eerste 14 dagen zijn altijd op proef. Ben je al een tijd op zoek naar een woonruimte? Probeer dan deze krachtige tool eens!
Al meer dan 40.000 woningzoekenden gingen je voor en hebben dankzij snel wonen een hele handige tool om nu echt die woonruimte te vinden!
Het grootste aanbod gevonden advertenties
De snelste en meest volledige zoekmachine
Niet goed geld terug en altijd opzegbaar
Let op: deze klant wenst niet buiten LinkPizza om benaderd te worden voor een samenwerking. Neem bij vragen contact op met LinkPizza via de chat.