Briefing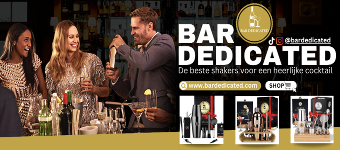 Company description
Bar Dedicated - Home of Cocktails is in 2019 ontstaan op Bol.com waarbij het draait om cocktails en de lekkerste recepten hiervoor.
Wij zorgen zorgen dat onze klanten een fijne avond beleven door onze cocktailsets, waarmee ze met behulp van onze recepten unieke creaties kunnen maken. In de cocktailsets vind je alles wat je nodig hebt om een goede cocktail te kunnen maken.
Bar Dedicated - waar kwaliteit, plezier en creativiteit samenkomen. Want de perfecte cocktail maken? Dat kan je nu zelf.
Let op: deze klant wenst niet buiten LinkPizza om benaderd te worden voor een samenwerking. Neem bij vragen contact op met LinkPizza via de chat.
Campaign application
Do you want to join this campaign? Log in or sign up and apply straight away!