Briefing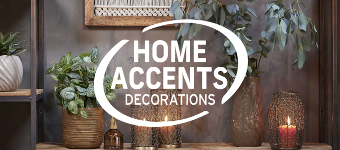 Company description
Ben jij ook iemand die maandelijks de woonkamer omgooit om weer een nieuwe cozy setting te creëren of heb jij bepaalde spots in huis die je graag gezellig maakt, de vensterbank, het dressoir of de bijzettafel? Lees dan verder, want dan is deze campagne misschien wel echt iets voor jou! Misschien ben je al bekend met het merk? Het gaat namelijk om de aantrekkelijk geprijsde en veelzijdige collecties van Home Accents: trendy woonaccessoires, seizoensartikelen en decoratiemateriaal. Een brede collectie artikelen waaronder: vazen, waxinelichthouders, kleden, fotolijstjes, wanddecoratie, beeldjes, tafeltjes etc. en exclusief verkrijgbaar bij Action.
Doelgroepomschrijving
Onze klanten houden ervan hun huis te decoreren en in te richten met mooie trendy woonaccessoires en decoraties voor een betaalbare prijs. Onze grootste doelgroep is: vrouwen tussen de 35 en 45 jaar.
Het assortiment kan verschillen per Action filiaal en staat niet volledig online, maar bekijk om een beeld te krijgen van welke producten er o.a. te koop zijn: https://www.action.com/nl-nl/search/?q=home+accents
Let op: deze klant wenst niet buiten LinkPizza om benaderd te worden voor een samenwerking. Neem bij vragen contact op met LinkPizza via de chat.
Campaign application
Do you want to join this campaign? Log in or sign up and apply straight away!