Briefing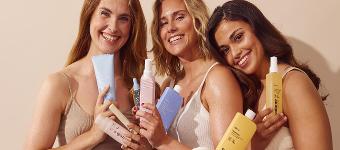 Company description
Hairlust is een Deens haarverzorgingsbedrijf, bij ons draait alles om het versterken van de natuurlijke schoonheid. We zijn geobsedeerd met haar en concentreren op ons producten voor zowel innerlijke als uiterlijke haarverzorging, misschien heb je onze leuke haargummies al eens gespot. Met een natuurlijke en holistische benadering tot haarverzorging, bieden onze haarsupplementen, haarverzorgingsproducten en haaraccessoires de optimale voorwaarden voor gezond en sterk haar!
We hebben een breed assortiment aan natuurlijke haarverzorging, zodat je met ieder haartype de ideale haarroutine kan vinden zonder in te moeten boeten voor schadelijke ingrediënten zoals sulfaten, parabenen en siliconen. Alle producten zijn veganistisch en gemaakt met biologische ingrediënten. Heb je last van haaruitval, een jeukende, droge hoofdhuid, snel vet wordend haar, droge punten, pluizig haar, ongedefinieerde krullen? Je vindt bij Hairlust de ideale producten om je hierbij te helpen. Of houd je juist meer van je haar te stylen in verschillende kapsels, maar wil je geen schadelijke ingrediënten gebruiken? Dan hebben we volumepoeder, haarspray, heatless curl kit en meer om je hierbij te helpen!
Daarnaast houden we er ook van om de producten er gezellig uit te laten zien, zodat het ook in jouw badkamer een feestje is! Doe onze haartest en vindt de juiste producten voor jouw haar :)
De producten: je kunt voor deze samenwerking kiezen of je haarverzorgingsproducten wilt promoten, of haarstyling.
Haarstyling: Je bent vrij in de producten die je kiest (https://hairlust.nl/collections/hair-styling)
Wat we aanraden voor de november periode is:
Bamboo Heatless Curls Kit
Final Touch Duo
Volume Wizard Hair Powder (Voor feestelijke looks in december bijv.)
Haarverzorging: Kies uit shampoo, conditioners, haarmaskers, haarvitamines etc.
Ons advies voor de november periode is:
Scalp Delight Bundle --> droge hoofdhuid tijdens de winter
Hair Formula Gummies / Grow Perfect Thickening Spray --> haaruitval voorkomen (komt vaker voor deze tijd van het jaar)
Haarmasker / Haarolie voor droog haar
Doelgroep
25-45 vrouwen
Nederland & België
Interesse in natuurlijke beauty producten, duurzaamheid, Scandinavische spullen, innovatieve producten
Let op: deze klant wenst niet buiten LinkPizza om benaderd te worden voor een samenwerking. Neem bij vragen contact op met LinkPizza via de chat.