Briefing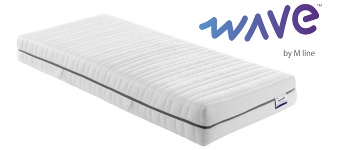 Company description
M line is een merk van DBC Nederland (Dutch Bedding Company), een dochteronderneming van Beter Bed Holding B.V. Sinds september 2001 is M line een prominente aanbieder van slaapsystemen en matrassen binnen Nederland, België, Luxemburg, Frankrijk, Duitsland en Oostenrijk M line wordt gedreven door innovatie, alle producten worden uitvoerig getest en daarom beschikken we over de nieuwste wetenschappelijke inzichten en testresultaten. Met resultaat, want er meer dan 300 topsporters en ambassadeurs op M line slapen.
Wave by M line
Met het Wave by M line matras surf je mee op de vertrouwde topkwaliteit van M line voor een verrassend lage prijs en verbluffend hoge kwaliteit. Zodat je altijd van een optimale nachtrust geniet, nu én in de toekomst. Ben je groot of klein, breed of smal, dik of dun? Een rug-zij-of buikslaper? Het aanpasbare Wave matras is geschikt voor ons allemaal door de keerbare lagen. Van de makers van M line voor de slapers van vandaag. Het Wave matras dat écht iedereen past. Bij de laatste test van de Consumentenbond hebben we een tweede plek behaald, met een 7.4. Daar zijn we trots op!
Let op: deze klant wenst niet buiten LinkPizza om benaderd te worden voor een samenwerking. Neem bij vragen contact op met LinkPizza via de chat.