Briefing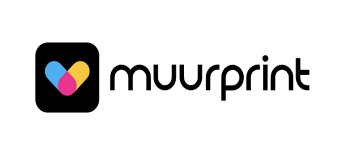 Company description
Met Muurprint.nl is elk oppervlak een canvas. Van muren en glas tot hout en metaal, wij toveren elke ruimte om tot een uniek kunstwerk. Of je woonkamer, keuken of kinderkamer een persoonlijk tintje wilt geven of je bedrijfsruimte wilt omtoveren, onze prints zijn een uitdrukking van je unieke stijl en visie!
Ons product is voor elke doelgroep interessant en zeer betaalbaar. Of je nu een particulier bent met grootse ideeën of een bedrijf dat zijn merk wilt versterken, onze mogelijkheid om tot 4 meter hoog en oneindig breed te printen, ook op donkere muren is het mogelijk! Zorg dat je ruimte opvalt met adembenemende, grootschalige muurprints die een onuitwisbare indruk achterlaten!
Onze geavanceerde printtechnologie stelt ons in staat om beelden te produceren met een ongelooflijke detailnauwkeurigheid. 🧐 Elke pixel telt mee in het creëren van een scherp, helder en levensecht beeld dat elke keer weer indruk maakt. De printer kan elke afbeelding (van enige kwaliteit) die je maar wilt op je muur printen.
Voor €350,- komen we al bij je thuis en heb je bijvoorbeeld al 1m2 afbeelding staan. En bij grotere prints betaal je minder per m2.
Bekijk hier eerdere projecten: https://muurprint.nl/projecten/
Let op: deze klant wenst niet buiten LinkPizza om benaderd te worden voor een samenwerking. Neem bij vragen contact op met LinkPizza via de chat.