Briefing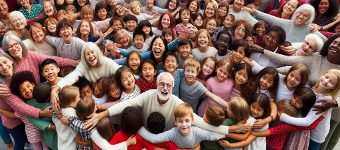 Company description
Marengo Vet en Nord Anglia International School of Rotterdam zijn op een missie om het wereldrecord te verbreken voor de "Meeste Nationaliteiten in Eén Groepsknuffel" en hebben JOUW steun nodig!
Dit gaat niet alleen over het vestigen van een record, maar over het vieren van wereldwijde eenheid en diversiteit, en de kracht van menselijke verbinding. De wereld heeft haar uitdagingen gezien en ziet ze helaas nog elke dag. In deze moeilijke tijden is het essentieel om onszelf te herinneren aan de onderliggende band die ons allemaal verbindt, ongeacht onze nationaliteiten, culturen of achtergronden.
Een groepsknuffel, hoewel een eenvoudig gebaar, symboliseert eenheid, liefde en wederzijds respect. Door individuen van diverse nationaliteiten samen te brengen voor één groepsknuffel, willen we een krachtige boodschap van wereldwijde eenheid en solidariteit sturen.
De kern van de groepsknuffel zal bestaan uit 40 kinderen van 4 tot 12 jaar van allemaal verschillende nationaliteiten en we hopen zoveel mogelijk volwassenen van alle generaties en verschillende nationaliteiten te verzamelen om hen heen als een boodschap om onze toekomst te beschermen!
De "teller" staat al op 60 (!) nationaliteiten! Laten we samenkomen en een krachtige boodschap van eenheid naar de wereld sturen! 🌏❤️
Liefdevolle groet!