Briefing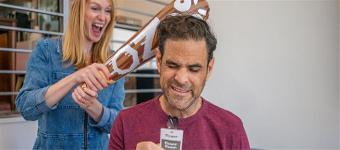 Company description
Asmodee is distributeur van de leukste bord- en kaartspellen in de Nederlandse markt en bekend van diverse titels zoals Ticket to Ride, Exploding Kittens, Dobble en Azul.
Een leuke activiteit voor de feestdagen samen met vrienden en familie is het spelen van een toffe partygame zoals Perudo en Poetry for Neanderthals! Daag je schoonmoeder uit voor een potje Perudo en bluf je een weg naar de overwinning of sla zonder je schuldig te voelen je broertje met een opblaasbare knuppel met het spel Poetry for Neanderthals.
Perudo
Perudo is een verrassend, eenvoudig en snel blufspel vol spanning! Schud de dobbelstenen in je beker, draai hem om op tafel, gluur naar je eigen score en gok hoeveel dobbelstenen van een bepaald getal minimaal op tafel liggen. Perudo win je door het beste te bluffen en door goed te gokken wat de andere spelers hebben gegooid. Ervaar de spanning van dit eeuwenoude blufspel!
Poetry for Neanderthals
Poetry for Neanderthals is een geweldig partyspel geschikt voor de hele familie van de makers van Exploding Kittens!. Spelers verdienen punten door als dichtende Neanderthalers hun teamgenoten woorden en begrippen te laten raden. Maar let op: als Neanderthaler ken je alleen woorden met 1 lettergreep…
Let op: deze klant wenst niet buiten LinkPizza om benaderd te worden voor een samenwerking. Neem bij vragen contact op met LinkPizza via de chat.