Briefing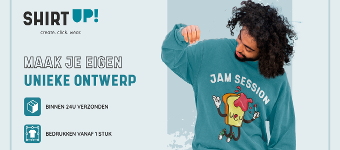 Company description
Het personaliseren van je kleding gaat verder dan alleen het creëren van een modieuze look; het is een krachtige manier om je eigen stijl en originaliteit te uiten. Het is een vorm van zelfexpressie, waarmee je je individualiteit kan laten stralen. Een dieper gevoel van zelfvertrouwen, authenticiteit en het verwezenlijken van de hoofdrol in je eigen verhaal, dát is waar het bij ShirtUp! dan ook om draait.
Sinds begin oktober zijn wij live met onze Nederlandse webshop. Als startup zijn we een nog niet heel bekende naam in de 'Print-on-Demand' wereld. Daarom ligt de focus bij ShirtUp! de komende tijd op het behalen van de volgende doelstellingen:
Brand awareness (en vertrouwen) creëren
Het opbouwen van een community
Meer traffic genereren naar de website
Ons product
Wij zijn een printplatform dat je de mogelijkheid biedt om jouw creatieve mode-ideeën tot leven te brengen op een gepersonaliseerd kledingstuk.
Laat je creativiteit de vrije loop en transformeer je alledaagse kleding in prachtige creaties, precies zoals jij ze voor ogen hebt. Verken een schat aan creatieve opties in onze gebruiksvriendelijke ontwerptool en bedruk je gewenste ontwerp op hoogwaardige, duurzame kleding. Of het nu om een persoonlijk t-shirt, hoodie, of poloshirt gaat, jij hebt alle vrijheid.
Leuk als origineel cadeau voor een ander, maar ook zeker leuk voor jezelf!
Let op: deze klant wenst niet buiten LinkPizza om benaderd te worden voor een samenwerking. Neem bij vragen contact op met LinkPizza via de chat.