Briefing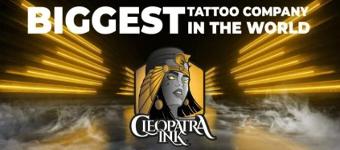 Company description
Cleopatra Ink is het grootste Tattoo & Piercing merk ter wereld. Met inmiddels meer dan 100 studio's in 20 landen bedienen wij miljoenen liefhebbers van Tattoos & Piercings over de gehele wereld. Cleopatra Ink heeft wereldwijd ongeveer 1.500 mensen in dienst in zijn studio's. De flagship store in hartje Rotterdam is de grootste Tattoo & Piercing studio van Europa.
Bovendien trainen we nieuwe ontwerpers en tattoo artiesten binnen onze eigen Cleopatra Ink Academy en stellen we ontwerpers en tattoo artiesten in staat om hun kunst uit te voeren in onze internationale studio's. Door ons uitgebreide internationale netwerk beschikken wij over de beste artiesten en kunnen wij ons volledig inzetten op sublieme customer service.
Let op: deze klant wenst niet buiten LinkPizza om benaderd te worden voor een samenwerking. Neem bij vragen contact op met LinkPizza via de chat.
Campaign application
Do you want to join this campaign? Log in or sign up and apply straight away!