Briefing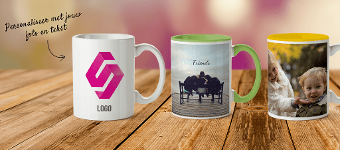 What do we want an influencer to do:
Van plan om voor een verjaardag, afscheid van een collega, voor op kantoor of als promotioneel artikel een prachtige mok laten bedrukken of juist een grotere oplage? Bij ons is het mogelijk op per stuk mokken te bedrukken. Elk een eigen naam/foto of bedrijfslogo. Het bedrukken van een mok is gratis. Wij zijn de jarenlange specialist op het gebied van bedrukte mokken (mok bedrukken per stuk of in een grotere oplage) en leveren binnen 24 uur!
Wij zijn op zoek naar influencers en publishers die een authentiek artikel kunnen schrijven waarin naar voren komt dat het geven of ontvangen van een gepersonaliseerde mok onwijs leuk is.