Briefing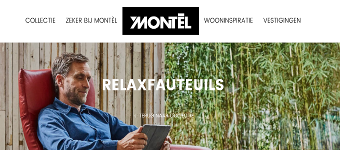 In 1986 opgericht door Ger Nijman. Meer design voor minder, was Ger Nijmans gedachte. In een winkel in 't Gooi presenteerde hij zijn zelfontworpen meubels voor een betaalbare prijs. Het was een doorslaand succes, Montèl is inmiddels uitgegroeid tot de grootste zitspecialist van Nederland.
Voor Montèl zijn we op zoek naar leuke (interieur)bloggers die een artikel willen schrijven over het uitzoeken van een nieuwe relaxfauteuil, met uiteraard een link naar de website van Montèl. Deze link dient op een natuurlijke manier verwerkt te worden in het artikel, bijvoorbeeld: "Vorig jaar hebben we een relaxfauteuil gekocht en daar zijn we nu nog heel blij mee" komt onnatuurlijk over, maar "Vorig jaar hebben we ons online georiënteerd en vonden we een prachtige collectie relaxfauteuils" is een betere optie.
LET OP: er is ook een pitch voor Montél over banken. Als je daar al op hebt gepitcht, kunnen we je helaas niet gebruiken voor een blog over banken.
Link

Anchor text / Link title

Relaxfauteuils + ... (collectie relaxfauteuils, mooie relaxfauteuils, etc.)
Conditions
Other Conditions
Permanente plaatsing
Delen via social media
In ieder geval 2 links (1 naar Montel en minimaal 1 andere externe link)
Ten minste 300 woorden
Er staan meerdere interieur-artikelen op je website
Channels
Wanted Categories

Campaign closes

within 2 weeks

Submitted before date

within 2 weeks
Apply to join this campaign
Do you want to join this campaign? Log in or sign up and apply straight away!